You have hopes and dreams. We all do; it's pretty common. What's uncommon, however, is living a life where you actually achieve your hopes and dreams. And it's not because there's a shortage of "tips" on how to do it. It's because for a wide range of reasons, very few of us actually do the work required to get the results. We're too busy, we don't know where to start, we begin with earnest and then fall off track…the list goes on and on.

Our 20-20 Financial Vision Challenge is here to change that. Our inspiration comes from the traditional '20/20 vision' which is described as 'normal visual clarity'. This means it's not perfect but you won't be bumping into trees either. Our step-by-step program that aims to tackle the roadblocks people typically face, and get you well on-track to building the life you want.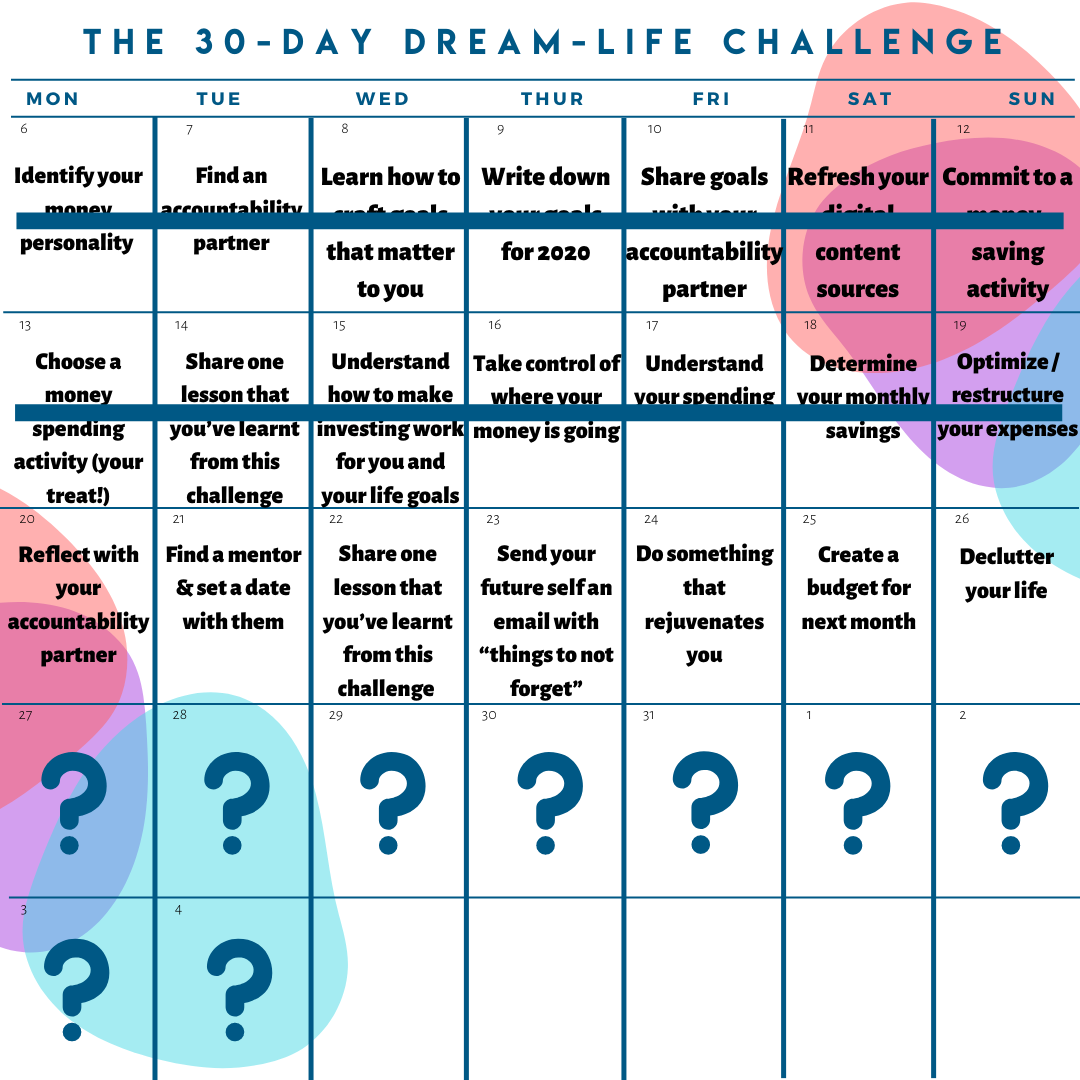 Our commitment: no penny-pinching commandments. We're not here to tell you to start limiting your toilet paper to two boxes per wipe (or any other extreme advice :-) )! Firstly, you'd barely save any money doing that (so it's not really worth doing), and secondly, it's very unlikely that anyone would use that advice anyway.

Instead, we're focusing on equipping you to build systems that get you closer and closer to the life you want. We're focused on clear goal-setting, prioritization, and conscious choices that enable you to build the life you want.
1. Set aside the time to do these activities now. Otherwise you end up pushing the activity to later, which inevitably doesn't happen. We've built a simple calendar tool to make this easier for you and will share it once you subscribe below.
2. Reflection and accountability are key pillars for this program. Ensure that you take the time to have the conversations and reflections we recommend – they're just as important as the individual actions that lead up to the reflections.
3. We've invested hundreds of dollars to create this Challenge, and we're giving it to you for free. Please treat it as you would a premium product, and commit to doing the work. It's our gift to you, and your gift to yourself.

We're excited to hear back on the great things you experience and achieve. Good luck!